Let´s move on…
After enjoying a relaxing week in Miami/Fort Lauderdale of course we required some exiting activities. We planned anyway to visit New York during our stay in the USA ,thus we booked a 2 days stay in NYC. My advice to you: Explore New York by night. It´ll be less crowded and the illuminated skyline is much more fascinating than during the day. Manhattan, the Brooklyn Bridge – everything looks just much more gorgeous during the night. Maybe also due to the reason that it was pretty grey and cloudy these days. Of course we enjoyed the view from 86th floor of the Empire State Building.
As we had only two days to explore NY, I thought about creating a small list for all NY-short-visitors with the most important places to be in the city that never sleeps.
Places to be in NYC:
Empire State Building: The Empire State Building is one of the most popular  landmarks of NYC, everybody has already heard about it. With its height of 443 m it belongs to the highest buildings of the world. The viewing platform is located on the  102nd floor in 373 meters height. A further terrace is located in 86th floor (320m). This one is cheaper and still enough to enjoy the breathtaking skyline, that´s why  I guess it´s not neccessary to visit the 102nd floor. On a clear day, you can see up to five states from the observation decks – New York, New Jersey, Pennsylvania, Connecticut and Massachusetts.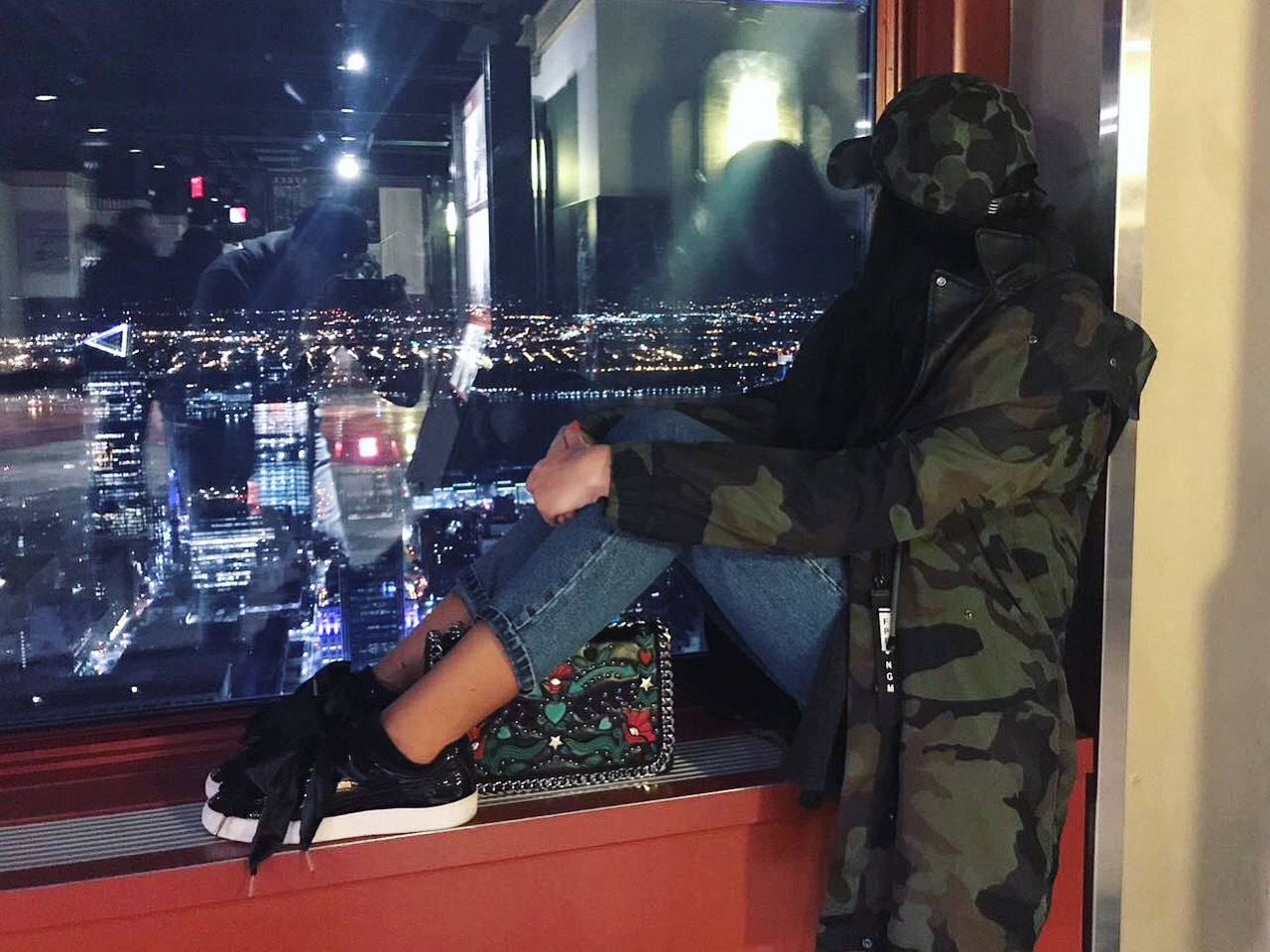 Central Park: An amazing green spot in the middle of the big city. Unfortunately we haven´t been there due to lack of time. Though it is on my list, as it is a nice place for hanging out, doing sports or having a romantic picnic with a friend.  The Central Park is still one of the greatest achievements in artificial landscaping. The park's terrain and vegetation are highly varied and range from flat grassy swards, gentle slopes, and shady glens to steep, rocky ravines.
Statue of Liberty: We only were able to observe it from a distance, as our time was running, like I told you already. Since 1924 the statue of liberty is part of the Statue of Liberty National Monument and classified since 1984 as UNESCO World Heritage.
Brooklyn Bridge: The Brooklyn Bridge looms majestically over New York City's East River, linking the two boroughs of Manhattan and Brooklyn. Since 1883, its granite towers and steel cables have offered a safe and scenic passage to millions of commuters and tourists, trains and bicycles, pushcarts and cars. Nearly directly under the bridge the noble River Café is located. From there you can enjoy the spectacular view while having your favourite drink.
Times Square: Although New York City's Times Square is overcrowded and often considered a tourist trap by locals, it's a fascinating place. It´s the center of the New York Theater District. Nowadays, Times Square has become the name of the entire district surrounding the square. Times Square itself constitutes of the crossing of Broadway and 7th Avenue between West 42nd Street & West 47th Street. This place is always crowded but during the night it´s much more comfortable. When you visit Times Square in Midtown Manhattan it's easy to see why: tourists from all over the globe come to marvel at the neon billboards, see a famous musical, go shopping in the area and soak up the unique Times Square vibe. You will see countless restaurants, fast food chains, hotels and companies like the MTV studios, Sony etc. And there is also the famous Disney-Store, which is open (as most of the shops there) until midnight. This area is a (really expensive) shopping paradise.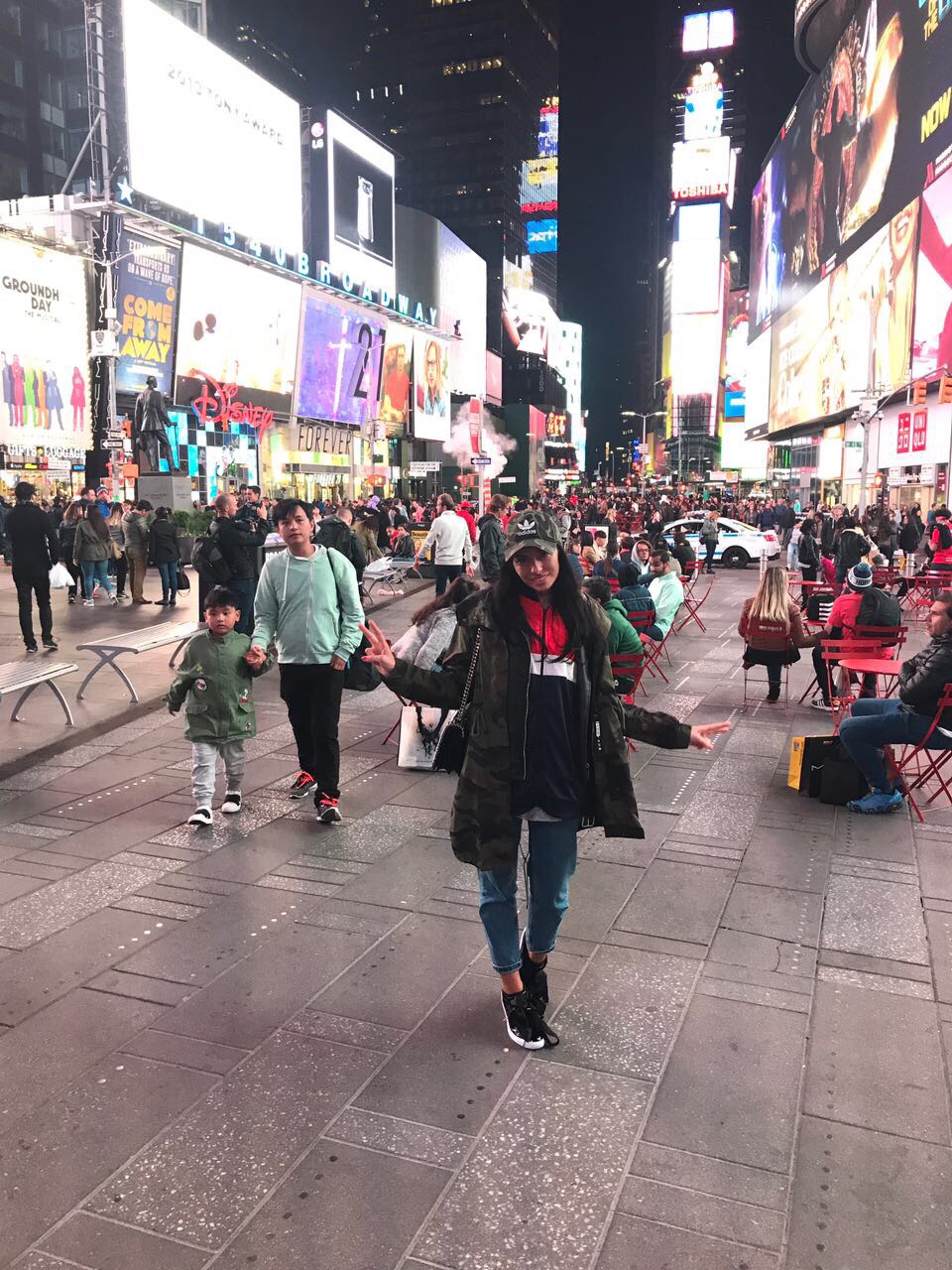 National September 11 Memorial & Museum: We all remember the terrible catastrophe of 9/11. The National September 11 Memorial is a tribute of remembrance and honor to the nearly 3,000 people killed in the terror attacks of September 11, 2001 at the World Trade Center site, near Shanksville, Pa., and at the Pentagon, as well as the six people killed in the World Trade Center bombing in February 1993. The Memorial's twin reflecting pools are each nearly an acre in size and feature the largest manmade waterfalls in North America. The pools sit within the footprints where the Twin Towers once stood. The names of every person who died in the 2001 and 1993 attacks are inscribed into bronze panels edging the Memorial pools, a powerful reminder of the largest loss of life resulting from a foreign attack on American soil and the greatest single loss of rescue personnel in American history.
Follow here the traces of Serena van der Woodsen and Blair Waldorf: The Grand Central Terminal. As a big Gossip Girl fan I had one first idea when entering the big hall of Central Station: This must be the place where Serena van der Woodsen arrived when she came back from boarding school. Indeed, a  Gossip Girl Tour (yes, you´ve heard right, it exists!!!) through New York is a MUST for every Gossip Girl fan. Don´t you wanna see where the elite of Manhattan lives, blasphemes, fells in love and buys all that fabulous designer clothing?
My conclusion: Im really impressed by this metropolis and pretty happy that I had the chance to see New York. Though, I was so glad when flying back to warm and sunny Florida. My recommendation to all sunlovers out there: In case you booked a Florida vacation, combined with a New York trip, please start with the visit to New York. The anticipation of seeing Florida is even bigger and you won´t get disappointed. You know, New York is pretty exiting but also exhausting. Florida on the other hand, with its enjoyable temperature, the amazing beaches and its tropical nature, is balm for the soul.