Meine Lieben,
daaaa bin ich wieder!!! 🙂
Stress und Erkältung sind überstanden und jetzt darf ich endlich die freien Tage genießen (ich hoffe ihr auch!!). Natürlich habe ich sofort die Zeit genutzt und endlich meinen neuen Blogpost fertiggestellt.
Pünktlich zum Frühlingsbeginn möchte ich euch heute in Zusammenarbeit mit der/dem tollen und bei uns Mädels sehr beliebten Marke/Shop Orsay mein perfektes Outfit für die ersten Frühjahrstage vorstellen.
Ich bin ja ein großer Fan der Farbe dunkelblau, denn ich finde sie bringt Eleganz in jeden Style hinein und ist einfach zeitlos, daher dreht sich heute alles um "dark blue" – Elemente. Eines davon ist zum Beispiel dieser leicht gemusterte
Kurzmantel
, in den ich mich sooofort verliebt habe. Anscheinend war ich nicht die Einzige, denn im Onlineshop ist er nicht mehr verfügbar. Jedoch habe ich noch mehrere Exemplare in unserem Augsburger Store hängen gesehen, daher -wenn er euch auch so gut gefällt – fragt doch einfach bei einer Boutique in eurer Nähe danach.
Liebe Mädels, 
Orsay
hat allgemein eine ganz ganz tolle Kollektion an recht günstigen und qualitativ hochwertigen Mänteln und Trenchcoats, daher lohnt es sich wirklich im Onlineshop oder auch in der nächsten Orsay-Boutique vorbeizuschauen! Da sich die warmen Temperaturen ja noch etwas zurückhalten, ist auf Übergangsjacken oder Mäntel derzeit fast nicht zu verzichten.
Wie ihr wisst, liebe ich lässige Streetstyle-Elemente, daher konnte ich es mir nicht nehmen lassen, diese coole
"ripped" Jeans
mit einzubringen, die ich sowohl zur weissen
Bluse
als auch zum
Blumenprint-Shirt
 unter dem Mantel tragen werde. Ein tolles Accessoire zum weissen Shirt finde ich ist das
Halstuch
. Wie gefällt es euch? In meinen Augen ist es einfach mal eine super Alternative zum schweren Schal (den wir mittlerweile wohl alle so lange wie möglich im hintersten Schrankeck verstauen wollen ;)…) und ein richtig edler Eyecatcher. In der Welt der Mode waren blau, weiss und rot schon immer eine tolle Farbkombi und genau das bestätigt diese wundervolle Frühjahrskollektion von Orsay.
Aber für mich persönlich ist das Wichtigste bei einem Outfit: Die Handtasche dazu. Leute, ohne Tasche ist das Outfit nur ein halbes Outfit. Naja, so sehe ich das eben, daher musste ich dieses elegante Baby einfach haben. Ist sie nicht schick? Und das Tolle daran ist, sie kann zu fast jedem Outfit super kombiniert werden.
Ich würde mal sagen: Dark blue is the new black! 🙂
Zu den Schuhen… Für mich gibt es drei Top-Kombis hierfür: Edle Pumps, "boyfriend"-Flats oder lässige Sneakers (weisse Chucks würden mir dazu z.B. sehr gut gefallen, habe ich nur leider nicht! 😉 )
Wie gefällt es euch denn am Besten und wie würdet ihr es tragen?
Ich mag alle Varianten, daher entscheide ich mich für schicke Pumps im Büro und lässige Flats für die Freizeit.
Ganz lieben Dank an das Orsay-Team für dieses tolle Outfit! Damit kann ich jetzt direkt ins Frühjahr starten. 🙂
FROHES OSTERFEST EUCH ALLEN!! <3
***
My loves,
here I am again. 🙂
I think I survived my stressy period + the bad cold I had and now my little holiday has started, which means that I can enjoy and relax during the following days. Thereby, finally I was able to finish my new blogpost for you.
As spring season has already started, I´m glad to show you today in collaboration with the lovely brand 
Orsay
my perfect outfit to wear the first spring sunshine days.
I am a big fan of the color dark blue, as in my eyes it brings elegance to each style and is also timeless – that´s why today it´s all about DARK BLUE elements.
One of those is for example this light and slightly patterned
short jacket 
I fell in love with immediately.
As you already noticed, mild temperatures and warm sunny days are still hiding, that´s why I can´t do without jackets
or coats at the moment.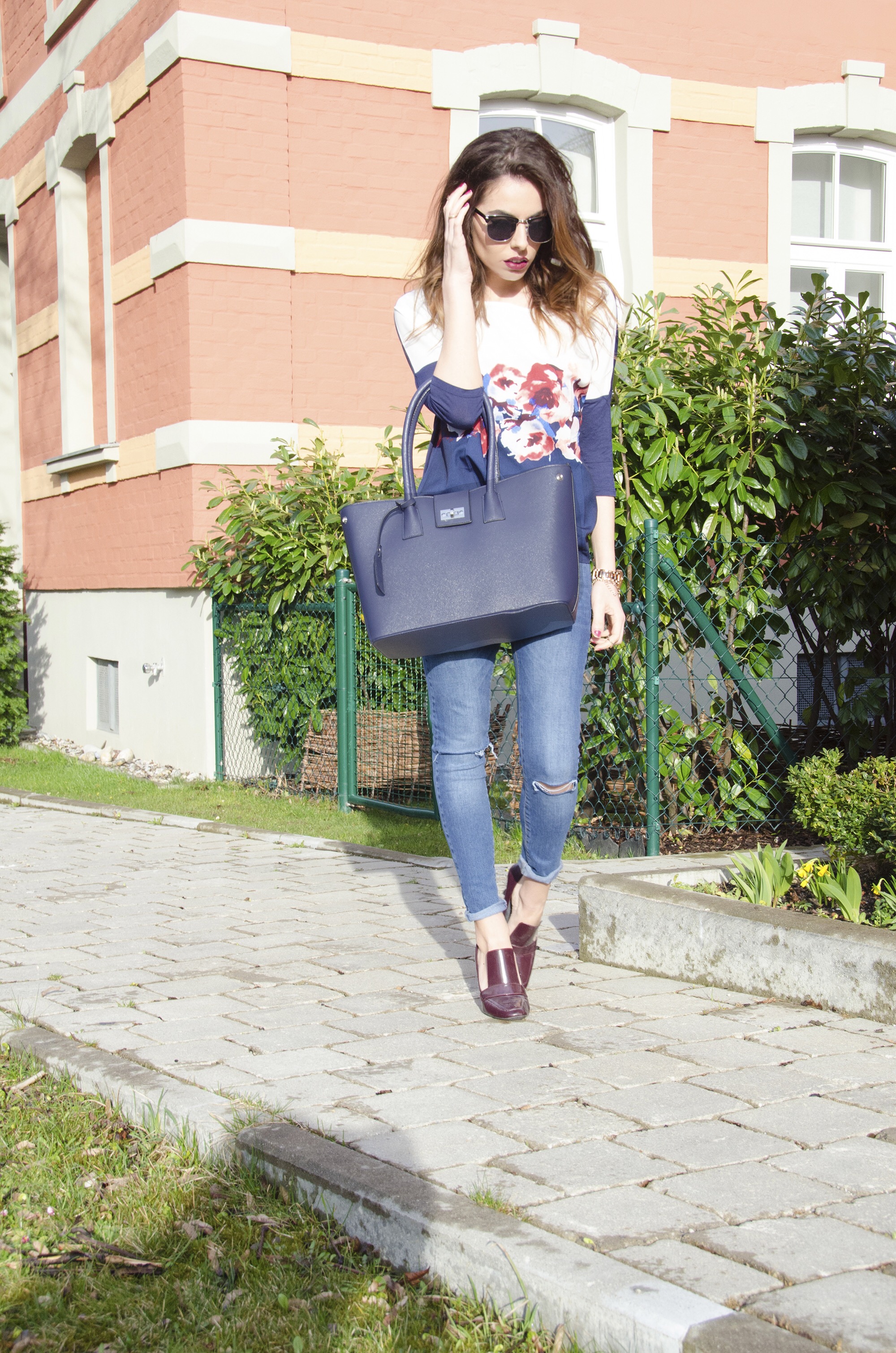 And girls, what I have to mention absolutely:
Orsay
offers an amazing collection of favorable jackets and trench coats, so
it´s really worth to stop by your city´s next boutique or visit their
online shop
!
You already know that I love casual street style elements, so I could not dispense with this cool
ripped jeans
The
necktie
suits with the white shirt and is a perfect alternative to a heavy scarf, which we all wore enough during winter time. Do you like it? Blue, white and red have always been a wonderful color combination and this is what the beautiful Orsay spring collection shows this year. But for me personally the most important piece of an outfit is still:
The bag!! Guys, without any bag an outfit cannot be completed! Well, that´s my opinion and that´s why I absolutely had to have this elegant baby. And the great thing about it is, that it really can be combined for nearly each other outfit.
I would say: Dark blue is the new black! 🙂
Regarding the matching shoes… For me there are three top combos therefore: noble pumps, boyfriend flats or sneakers (for example, I´d like white chucks with it, which I unfortunately do not have 😉 )
How do you like it best and how would you wear this outfit?
 I like all of those types, so I decided for chic pumps for business and casual flats for free time.
Many thanks to the whole Orsay team for this cute and inspiring outfit –
With it I´m going to start right into spring now. 🙂
HAPPY EASTER EVERYBODY! <3