Hey peeps,
after having posted a lot about hair and beauty stuff, a fashion post is urgently needed of course. And so today I present you these outfit which includes a particular extremely colored accessory: This lovely studded rainbow-colored clutch which is similar to the studded Valentino. I got it from Rosegal, a really cool online shop where all actual trends regarding clothing and accessories can be found. I'm so into the colors, especially for  summer-day-outfits this is the perfect accessory. As summer unfortunately has nearly come to an end, it's still a nice addition to a funky night-out-look or just spices up a classy outfit.                                                                                                                                                                                   ***                                                                                                                                                             Hey peeps,                                                                                                                                                             nachdem ich in letzter Zeit sehr viel über Beauty und Haarpflege geschrieben habe, musste dringend wieder einmal ein Artikel über Fashion her. Und den gibt es heute. Diesmal habe ich ein ziemlich klassisches Outfit mit einem super auffälligen Accessoire kombiniert: Und zwar mit dieser quietschbunten regenbogenfarbenen Clutch, ähnlich der echten "Rockstud" von Valentino. Diese habe ich von Rosegal, einem ziemlich coolen Onlineshop, auf welchem die aktuellsten Trends bzgl. Klamotten und Accessoires zu finden sind. Ich liebe einfach diese Farbkombination und ihr wisst ja mittlerweile, dass ich auf auffällige Eyecatcher stehe. Gerade für den Sommer ein tolles Accessoire – da dieser sich jedoch leider langsam dem Ende zuneigt, nehme ich mein neues Baby trotzdem gerne abends zur schwarzen Lederjacke mit in den Club oder eben als Highlight zum eher klassichen Look beim Dinner mit den/dem Liebsten.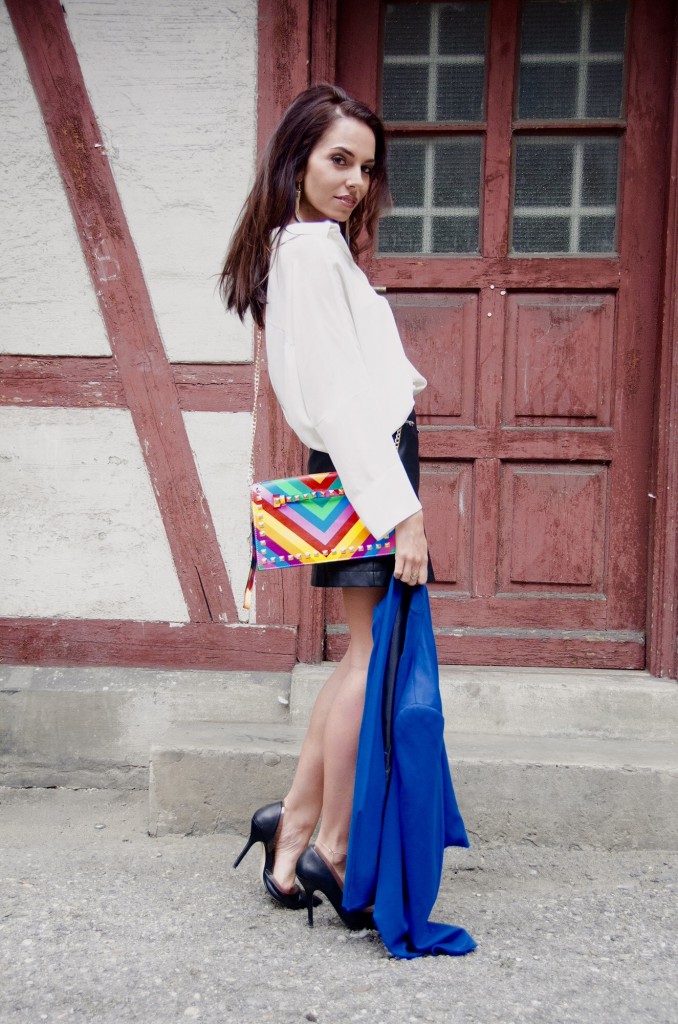 This dress is more about being styled quick and easy. It's just a leather skirt (MANGO) with a white oversize blouse (ZARA), a long blazer (ZARA) and classy black pumps (okay, it's ZARA again). Combined with the rainbow clutch and a statement necklace (or in this case: earrings) the lazy look gets fresh and more girlie-like. I wore it last week when being out for dinner with my love.
***
Dieses Outfit lässt sich schnell und easy stylen. Man nehme (… 🙂 ) einen schwarzen Lederrock (MANGO), ein einfaches Oversize-Hemd (ZARA) und klassische schwarze Pumps (ZARA) + einen Longblazer (ebenfalls ZARA). Kombiniert mit dem knallbunten Baby und auffälligem Statement-Schmuck (hier sind es die Ohrringe) wirkt der Look gleich eher "girlie-like". Diesen habe ich z.B. letzte Woche beim gemütlichen Dinner mit meinem Schatz getragen.
And here a funny snapshot…
On this selfie I tried a more beach-like style. 😛 I'd love to wear it on these amazing holiday nights after a long sunbath, when strolling along the beach promenade with icecream in my hand (yeah, you know what I mean…). I bought the white beach dress in Italy during my last vacation and wore it also directly on the beach with my bikini underneath, but with the rainbow clutch and and these orange pumps (an older pair which I bought at ZARA about 2 years ago) it easily can be worn on a beach party or when having a Mojito in your favorite club lounge.
***
Und bei diesem lustigen Selfie hatte ich eher an ein Strand-Outfit gedacht. Oder sagen wir mal, an die wunderbaren Abende, an denen man mit einem leckeren Eis in der Hand braun gebrannt an der Strandpromenade entlang schlendert (hach ja…). Das weisse Strandkleid habe ich während meines letzten Urlaubs in Italien gekauft und es auch direkt über dem Bikini am Strand getragen. Mit der "Regenbogenclutch" (so nenne ich sie jetzt einfach mal) und meinen knallorangenen Pumps (ein älteres Paar, welches ich vor 2 Jahren bei ZARA gekauft hatte) kann es locker auf einer Beach Party oder in der Lieblingslounge (bei einem leckeren Mojito) getragen werden.
I wanted to color up my fashion life with this funky clutch and I hope you like it . 🙂
***
Ich hatte einfach mal Lust ein bisschen Farbe in mein Fashion-Leben zu bringen und hoffe euch gefällt es. 🙂 THX a lot to: ROSEGAL <3