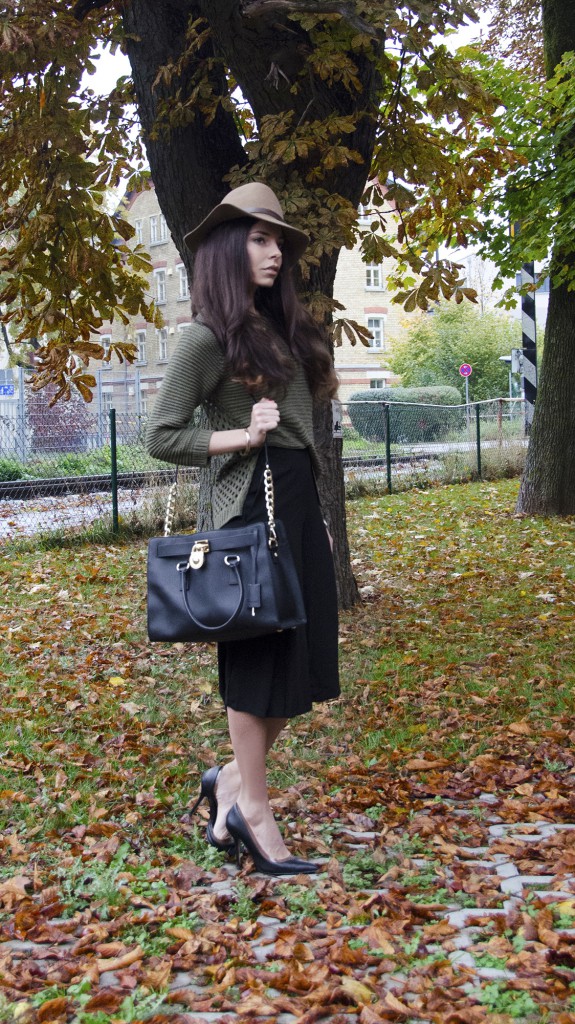 Hello beauties, Hello autumn!
Even if Fall season has begun, we don't need to be desperate. In my 
 opinion this time of the year offers a lot of really chic streetstyle 
 possibilities and amazing colors, so there are many ways to dress up. For example with today´s and the upcoming blogpost I will present 2 different outfits related to Autumn in cooperation with the fashion online boutique YOINS.com. Today it is about the super elegant culottes and the second one will be about a cool frayed leather jacket. I chose two really dissimilar pieces because on the one hand I wanted to show you a classy outfit, but on the other hand also a more cool one. You know, it's like 
 you love the classy style of Olivia Palermo but also the casual look of 
 Cara Delevigne and cannot decide which of both you like more – because 
 both types of style are considered to be amazing, although they are so different. And so I felt when choosing the outfit for this blog post. 🙂
 Certainly the right accessories should never lack and so I am really  proud of the chance to collaborate also with byKranz, a Danish jewelry
 brand which provided me these fantastic pieces of their current 
 collection which especially fit perfectly to my OOTD.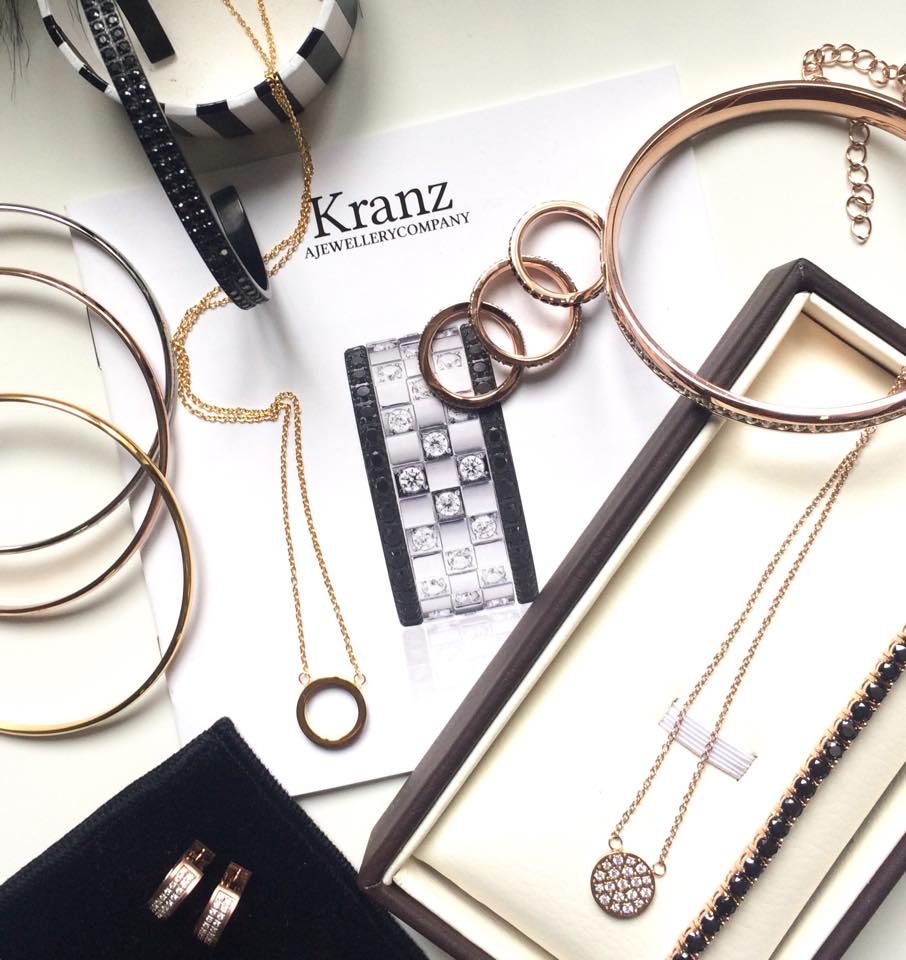 Well, my outfit of today (OOTD) embodies the classic retro look:
Preliminary – the culottes look especially nice when a woman wears them 
 with pumps or sandals. I am obsessed with the "uncovered ankle" which 
 looks so fine and sexy to a woman and leads also to an optical leg 
 extension. If someone would ask me if she can also wear boots with the 
culottes I would advise agains it. (Ok, except she is a 1,80 model with 
 super slim legs and calves…)
 For all girls who are thinking about wearing culottes with flat shoes – it's possible of course. Some white sneakers would also look cool (and the ankle would still be uncovered 😉 ) and provide the look a sporty touch.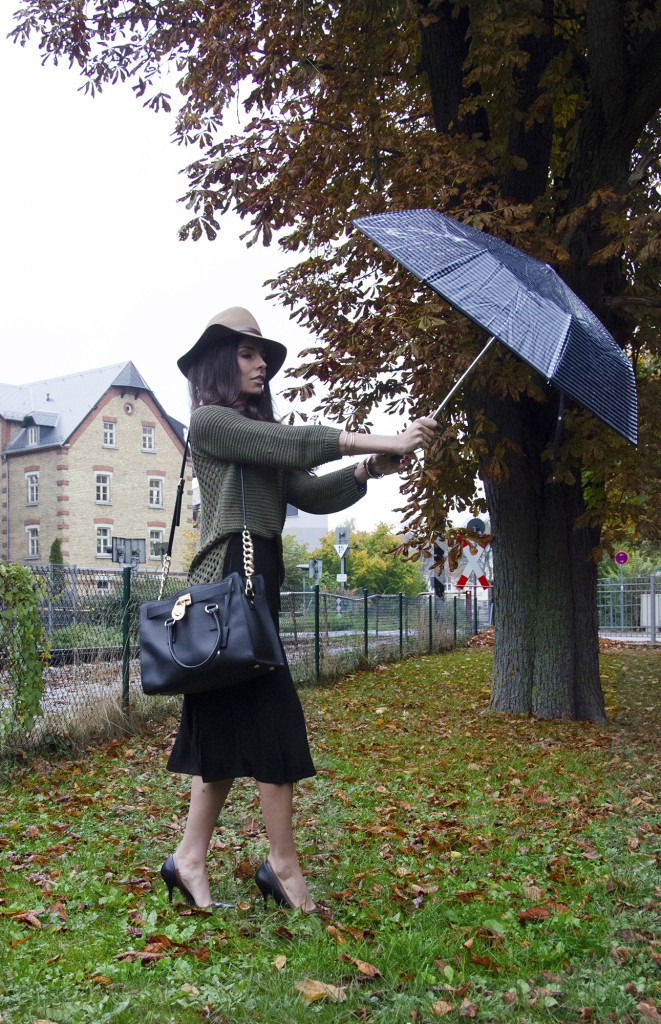 Anyway, I wear the black culottes by YOINS with my classic black pumps  (ZARA) and an olive green oversize sweater (H&M). As accessories I chose the beige hat (H&M – no, exceptionally it's not the black hat as always 🙂 ), the black Hamilton bag (Michael Kors) and these lovely jewelry pieces by Kranz 
 consisting of 2 necklaces, 3 rings, 4 bracelets and one earring pair. In the byKranz-online shop you can select between some awesome gold, silver, black and rose gold jewelry creations. I picked a color mix of black and 
 rose gold because black fits everywhere and my beloved watch is also a rose gold-colored one, thus I wanted to wear it together with the bracelets.
 Of course the Kranz collection is a bit more expensive than typical Fashion jewelry levels, but due to the high quality it is also worth it.
I am totally in love with the shape, the gilded look and the white zirconia stones on the rose gold one and I think I will never take them off again. 🙂
So much for todays outfit. I look forward already to present you the second one in my next blog post.
 Then it's all about fringes, leather and the lumberjack shirt.
For anybody who cannot wait: You can already see a little foretaste on my Instagram and Facebook account. 
***  
Hallo meine Hübschen,
Hallo lieber Herbst!
Auch wenn der Herbst nun endgültig begonnen hat, ist dies noch lange kein Grund zum Verzweifeln.
Im Gegenteil – ich finde, dass diese Jahreszeit viele tolle Streetstyle-Möglichkeiten bietet und es somit 
 eine riesen Auswahl an verschiedenen Outfits gibt. Heute und in 
 meinem darauffolgenden Blogpost präsentiere ich zum Beispiel 2 unterschiedliche Herbst-Outfits in Kooperation mit der Onlineboutique YOINS.com.
Es handelt sich hierbei einmal um die super eleganten Culottes (auch Hosenrock genannt) und bei Outfit Nummer 2 um eine coole Fransen-Lederjacke.
Ich habe zwei komplett unterschiedliche Teile ausgesucht, da ich euch sowohl ein klassisches Outfit,   als auch ein etwas cooleres zeigen wollte. Ihr wisst schon… Es ist irgendwie zu vergleichen mit: "Ich liebe Olivia Palermos eleganten Stil aber auch den lässigen Look von Cara Delevigne und kann mich nicht entscheiden, welchen der beiden Styles ich lieber mag. Beide sind wahnsinnig toll aber auch so verschieden."
Naja, und so habe ich mich gefühlt, als ich ein Outfit für diesen Blogpost aussuchen durfte. 🙂
Natürlich dürfen die richtigen Accessoires nicht fehlen und daher bin
ich sehr stolz darauf, die Chance bekommen zu haben, mit byKranz – einem tollen dänischen Modeschmuck-Hersteller – zu kooperieren, welcher mir diese fantastischen Schmuckstücke aus der aktuellen byKranz-Kollektion zur Verfügung gestellt hat. 
Das Design ist eher schlicht und durch die vielen funkelnden Steinchen gleichzeitig edel gehalten und  
passt daher besonders gut zu meinem heutigen Outfit.
Mein "Outfit of the Day" (OOTD) zeigt heute also den klassischen Retro-Look:  
Vorab: Culottes sehen besonders toll aus, wenn Frau sie mit Pumps oder Sandalen trägt. Ich bin vernarrt in den "freiliegenden Knöchel", welcher einfach fein und sexy bei uns Mädels aussieht und ausserdem die Beine optisch schlanker und länger aussehen lässt. Würde mich jemand fragen, ob man zu Culottes auch Boots tragen kann, würde ich persönlich wohl davon abraten. (Okay, ausser sie ist ein   1,80m-Model mit super schlanken Beinen und Waden…)  An alle Mädels, die sich nun fragen, ob Culottes auch mit flachen   Schuhen getragen werden können – ja, es geht natürlich. Ein Paar weisse   Sneakers sehen auch richtig cool dazu aus (und der Knöchel würde trotzdem freibleiben 😉 ) und würden dem Look einen sportlichen Touch   verleihen.  
Jedenfalls trage ich die schwarzen Culottes von YOINS mit meinen schwarzen spitzen Pumps (ganz klassisch eben; Marke: ZARA) und einem olivgrünen Oversize-Pullover (H&M). Als Accessoires habe ich einen beigen Hut (H&M – nein, diesmal ist es nicht mein legendärer BLACK HAT), die schwarze 
 Hamilton (Michael Kors) und diese hübschen Schmuckstücke von byKranz.
Im byKranz-Onlineshop kann man aus wundervollen goldenen, silbernen-,   schwarzen und roségoldenen Schmuckkreationen wählen. Ich habe einen Farbmix aus schwarz und roségold gewählt, da schwarz immer passt +meine allerliebste Uhr auch rossgoldfarben ist und ich diese unbedingt   passend zu den Armbändern tragen möchte.
Die byKranz-Kollektion ist natürlich etwas teurer als der typische "sich-nach-einmal-Händewaschen- 
verfärbende" Modeschmuck, wegen der hohen Qualität ist sie das aber auch wert.
 Mein persönlicher Favorit sind die beiden Halskettchen (hier habe ich gold und roségold gewählt) – ich bin total verliebt in die Form, den vergoldeten Look und in die weissen Zirkonia-Steinchen (im roségoldenen Anhänger zu sehen) und glaube, ich werde sie nie wieder ausziehen. 🙂
Soviel zum heutigen Outfit. Ich freue mich jetzt schon darauf, euch meinen zweiten Look im kommenden Blogpost zu zeigen. Dann dreht es sich um Fransen, Leder und um das Holzfäller-Shirt.  Für alle, die es nicht abwarten können: Ihr könnt sogar schon einen