Sooo meine Lieben, 2 Wochen sind vorbei und ich benutze jeden Morgen und jeden Abend nach meiner Gesichtsreinigung  die Produkte der Elizabeth Arden "Flawless Future"- Pflegeserie welche mir von Flaconi.de zum Testen zur Verfügung gestellt wurde. Abends trage ich nur die Creme auf und am Morgen das Serum und die Augencreme.
Ich muss euch ganz ehrlich sagen, dass ich üüüberhaupt kein Freund von neuen Gesichtspflegeprodukten bin, da ich eine ziemlich fettige Haut habe und ausser meiner persönlichen "Anti-Unreinheiten-Pflege" aus der Apotheke NICHTS anderes vertrage. Feuchtigkeitscremes sowieso nicht und alles andere ist und war für mich immer nur "teurer Schnickschnack" da es an meiner Haut einfach keine positive Veränderung gab. Eher das Gegenteil war oft der Fall. Somit war ich bis jetzt ganz zufrieden mit meinem eigenen Produkt, auch wenn immer wieder einige, wenn auch wenige Unreinheiten auftauchen. Aber "besser geht es halt nicht" dachte ich immer.
Trotzdem habe ich mich selbst überredet, nur noch dieses eine Mal die neue Serie von Elizabeth Arden zu testen – und zwar nur wegen diesem einen Satz: "Für Frauen mit einem sehr hektischen Lifestyle" – was einfach zu 100% auf mich zutrifft. 🙂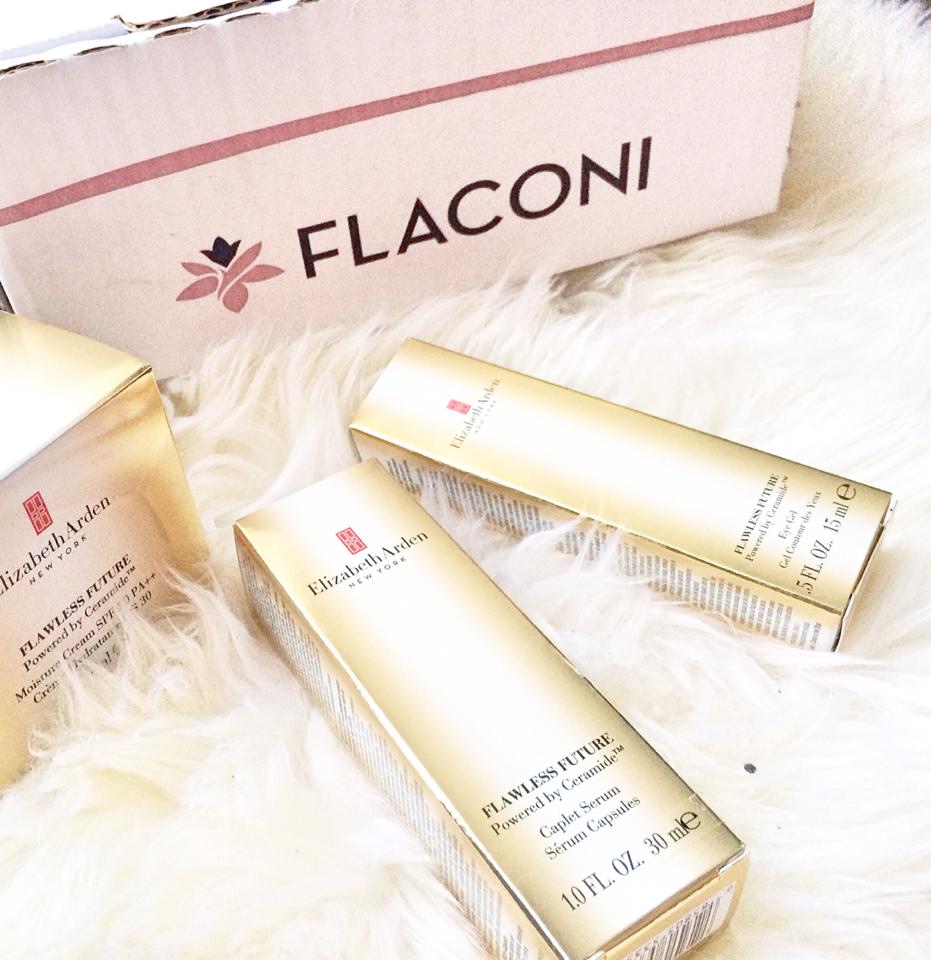 Ich habe mir also von Flaconi die 3 Produkte zusenden lassen und direkt damit angefangen. Ich muss sagen, dass ich schon beim ersten Auftragen ein ganz leichtes aber angenehmes Prickeln auf meiner Haut verspürt habe. Ausserdem riechen sowohl Creme als auch Serum einfach sooo toll und ziehen sofort ein, sodass die Haut nicht beschwert wird und man sich einfach gleich total frisch und wohlriechend fühlt.
Normalerweise war es bisher so: Wenn ich nachts eine neue Feuchtigkeitscreme zum "Ausprobieren" auftrage, wache ich am nächsten Morgen sofort mit einem Haufen Pickeln im Gesicht auf, da meine Haut so viel Feuchtigkeit wie gesagt einfach nicht verträgt. Aber nein – ich bin bisher jeden Tag mit einer glatten und wirklich pickelfreien Haut aufgewacht (und ich finde egtl. immer irgendwo einen!!!) Das ziehe ich nun eben schon zwei Wochen durch und trotz meines stressigen Nebenjobs als Barkeeper, welchen ich ja jedes WE in einem Club ausübe, und durch den ich JEDEN Morgen nach Ladenschluss mindestens einen Stresspickel hatte, ist mein Hautbild immer noch top und fühlt sich einfach glatt und toll UND von Tag zu Tag besser an.
Ich bin wirklich sehr beeindruckt und hätte das überhaupt nicht erwartet. Es gibt sie also doch – die PERFEKTE Gesichtspflege für mich! (Und sieht auch noch dazu sehr edel aus!)
Also, wie ich schon sagte, ziehe ich dies nun schon 2 Wochen durch und werde die Produkte auf jeden Fall weiterhin benutzen. In diesem Fall bin ich total überzeugt, dass es sich lohnt einmal etwas mehr auszugeben und dafür 100% (oder sogar 110%) zufrieden zu sein.
Die Produkte halten auch lange, ich selbst nehme auch nur ganz wenig davon und es reicht vollkommen.
Nach der Pflege benutze ich ganz normal mein Make-up oder eine getönte Tagescreme und bin super zufrieden – die Haut fettet nicht mehr so schnell nach und somit spare ich mir das ständige Nachpudern auch noch. 🙂
 LIEBEN DANK an Flaconi und Elizabeth Arden für diese tolle Pflegeserie – diese wird in Zukunft nicht mehr aus meinem Badezimmer wegzudenken sein.
Um mehr über Elizabeth Arden und Flawless Skin-Serie zu erfahren, könnt ihr euch auf youtube das Video dazu ansehen.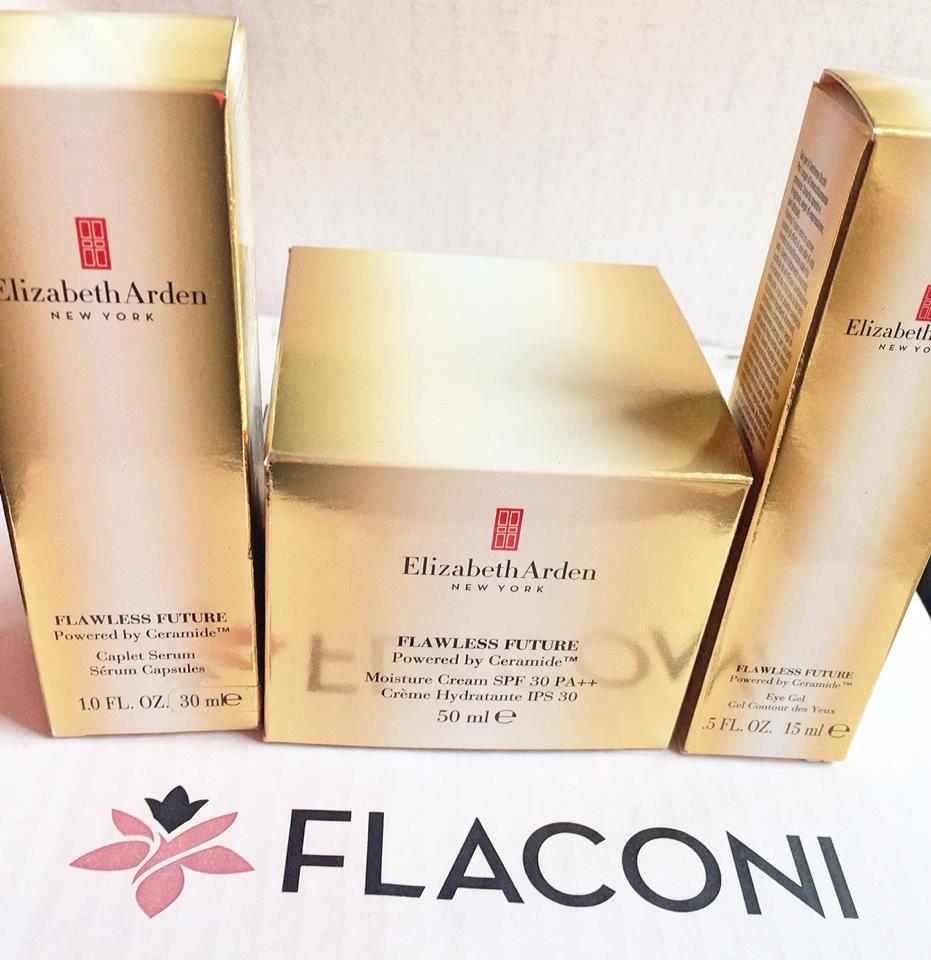 ***
Well guys… 2 weeks have gone and I use every day and night after my face cleaning the products of my Elizabeth Arden skin care series "Flawless Future" which Flaconi.de provided me for testing. Before going to bed I applicate only the moisturizing cream and in the morning the serum and the eye cream.
To be honest I´m not really a friend of new skin care products, due to the fact that my skin is really oily and does´t tolerate others but my personal "anti impurities care" which I buy at the pharmacy. Moisturizers not anyway and everything else was only expensive "bullshit" in my eyes because I couldn´t see any positive change on my skin. It had more often the opposite effect. That´s the reason why I was pretty satisfied with my own product, even if sometimes I still had some impurities or spots – but I had always this one thought in my mind "that's the best result and it won´t get better".
Even though I persuaded myself to have this one last try with the new series by Elizabeth Arden – and only because of that sentence: "For women with hectic lifestyle" – which concerns me 100%. 🙂
Thus Flaconi provided me these products and so I started immediately. The first time I applicated it, I felt a light but pleasant tingling on my skin.
The cream as well as the serum have such an enjoyable smell and soak in immediately, in order that the skin does not get burden and you feel immediately fresh and good-smelling.
Usually I was used to the following procedure: After trying a new "hydrating cream" before sleeping, the next day I got up with a lot of spots in my face, as my skin – like I already wrote – does not tolerate that much moisture. But NO, this time I'm getting up every day with a smooth and really pimple-free skin (and normally I always discover one somewhere in my face!!!)
It´s been already 2 weeks like this and in spite of my  super stressy additional job as bartender which always provided me a new stress spots in the morning, my skin is still in a TOP condition und feels smoother and better from day to day.
I´m really really impressed and would have never expected this. It does exist: The PERFECT skin care for me! (And it even looks really precious!)
As I said, I am using it already for 2 weeks and I will make use of these products in every case furthermore.
In this case I am really convinced that it´s worth it to spend a bit more money and to be 100% (or also 110%) satisfied with the product. Don't worry – the products are durable for a longer time, I use only a very little of it and it works perfectly.  After using them, I put on my usual make-up and I´m satisfied – my skin gets not oily that quickly and thus I need no longer to powder my face constantly. 🙂
Big Big thanks to Flaconi and Elizabeth Arden for providing me this amazing skin care series – it will become indispensable for me in future.
For more information about Elizabeth Arden and the Flawless Skin series check out on youtube the corresponding videoclip.