Hello everybody / Hallo meine Lieben,
as promised I wanted to write also a post about my trip to Dubai – and here it is. 🙂
nachdem ich ja nach unserem Malediven-Trip auch noch 2 Tage in Dubai verbracht hatte, möchte ich wie versprochen auch darüber schreiben. 🙂
I was really sad when we left from Malè Airport (Thanks to the EMIRATES which made our flight as comfortable as possible) as I had to leave the real paradise. But when we arrived in Dubai I was already flashed by the airport with its thousands shopping possibilities and so my "city life mode" was already turned on again.
Als wir also von Malè nach Dubai abgeflogen sind – danke noch einmal an die Fluggesellschaft Emirates, welche uns den Flug sehr komfortabel gemacht hat – war ich schon sehr traurig, dass ich das Paradies auf Erden verlassen musste. In Dubai angekommen war ich aber schon so vom Flughafen "geflashed" da er riesengroß ist und die Shoppingmöglichkeiten grenzenlos sind, dass ich schon wieder den "Citylife"-Modus angeschalten hatte.
We took the taxi from Dubai International Airport to the Hotel Sheraton (Sheraton Dubai Creek) and there we have been welcomed like superstars. I won´t forget that super friendly staff, always smiling and talking to us like to high class VIPs.
The hotel room deserves only one word: "WOW!" I´d furniture my whole apartment exactly like this room. The colors and that timeless style had just hit my taste!
Mit dem Taxi ging es vom Dubai International Airport zum Hotel Sheraton (Sheraton Dubai Creek), dort angekommen wurden wir empfangen wie Superstars… Das Personal war megafreundlich, jeder lächelte uns herzlich an und grüßte uns als wäre man ein VIP der höchsten Klasse. Zum Hotelzimmer (und es war nur ein "classic room") kann ich nur sagen: WOW! Die Einrichtung hätte ich direkt zu mir nach Hause einfliegen lassen – die Farbtöne in braun, schwarz und beige – genau wie es mir gefällt! Das Bad war ein Traum mit einer riesigen Dusche, in welcher ein großes Fenster eingebaut war – mit Blick in das Schlaf-/Wohnzimmer (natürlich konnte man es auch schließen 😉  ).
Badewanne ebenfalls inklusive und mit einer Fernbedienung konnte man auch den Lieblings-Musiksender, welcher gerade im Wohnzimmer läuft, im Bad anschalten.
See some pics / Hier ein paar Bilder dazu: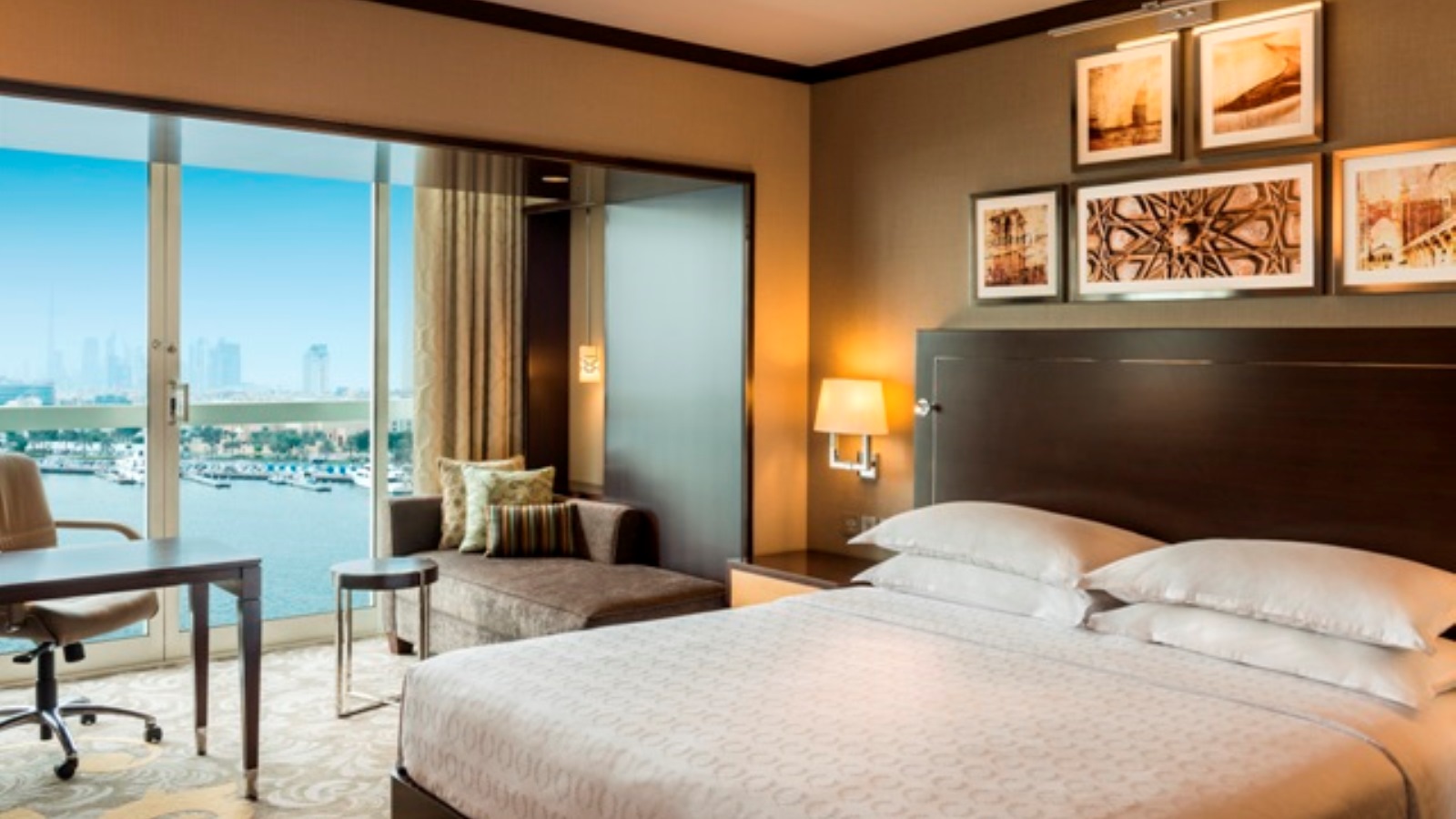 View at night / Zimmerausblick bei Nacht: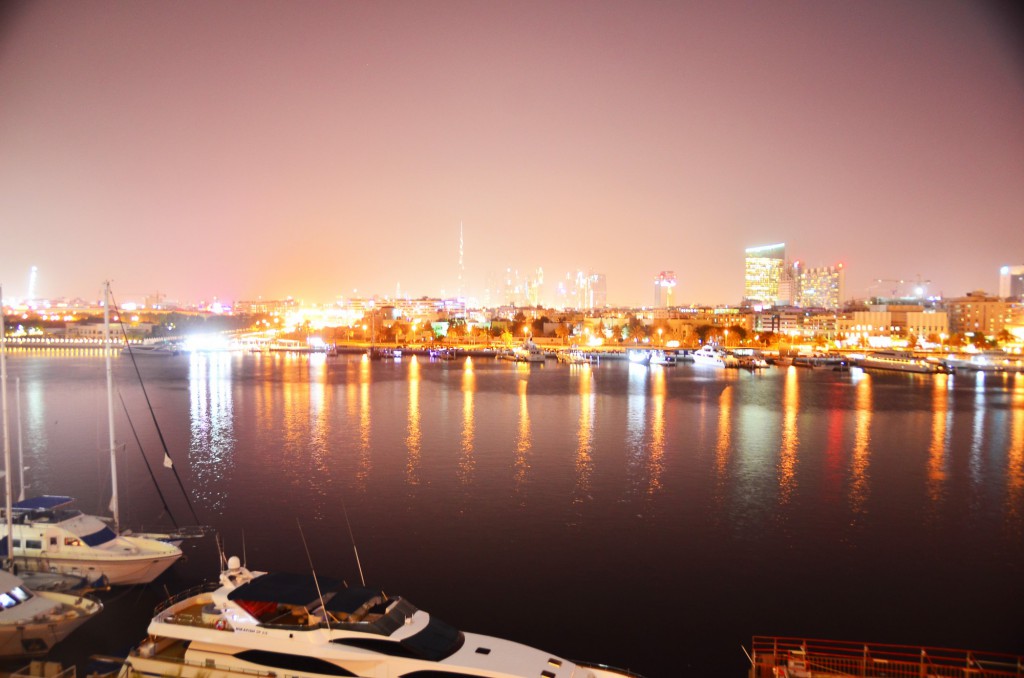 After having the essential espresso (Nespresso coffee machine was inclusive) we started  discovering the city of Dubai. As the weather was perfect for me – sunshine – 30°,  I put on my maxi skirt and a loose white top – even if it was shoulder free, it was still okay for Dubai. Girls, be careful that you don´t show too much of your skin.
Here you can see a mobile snapshot:
Nach einem Espresso (die Nespresso-Maschine stand ebenfalls im Zimmer) und einer kurzen Dusche sind wir direkt raus und haben uns Dubais Altstadt angesehen. Das Wetter war sehr angenehm (Sonnenschein, Temperatur um die 30 Grad, was ich persönlich einfach liebe) und dementsprechend konnte man sich auch kleiden.
Ich wollte nicht zu viel Haut zeigen und habe meinen langen Maxirock + ein (trotzdem) schulterfreies Top gewählt, dazu ein paar flache Zehensandalen.
Der Dubai Creek ist eine sehr belebte und vielfältige Seite von Dubai.  Bei einer Rundfahrt über den Creek kann man einerseits die Wolkenkratzer und modernen Gebäude von Dubai bewundern, anderseits sieht man hier noch die alten Boote, mit denen man den Creek überqueren kann und auch an die verschiedenen Souks (wie z.B. den alten Gold Souk) gelangt. 
I bought another neon pink coloured maxi skirt in one of the little shops in the center of Dubai and my boyfriend the typical Kufiya, which he won´t wear anymore in his life. 😀 If you are a fan of golden jewelry and accessories, don´t miss to visit the Gold Souk – I´ve never seen that much gold and glitter at one spot… 😉
In einem der kleinen Läden habe ich mir auch direkt einen weiteren Maxirock gekauft  und mein Freund sich eine Kufiya (typische arabische Kopfbedeckung), die er wohl nie wieder in seinem Leben tragen wird. :DSehenswert ist auch der o.g. Gold Souk – ich habe noch nie so viel Gold und Glitzer auf einem Fleck gesehen wie dort… 😉
When having a great dinner in the hotel´s Indian restaurant "ASHIANA" (award winner!) I wore the red jumpsuit which I saw randomly at "bonprix". Do you like it?
Abends haben wir im hoteleigenen indischen Restaurant "ASHIANA" (Awardgewinner!) ein sehr feines Dinner genossen und waren anschließend noch auf einen Drink im Chelsea Arms Pub (ebenfalls im Hotel). Einfach nur zum weiterempfehlen – WOW!  Ich habe meinen roten Jumpsuit (bonprix) für den Abend ausgesucht – wie findet ihr ihn? :

… and for that I chose my plateau sandals by ZARA which you may already know:
… und dazu meine superbequemen Plateaus von ZARA die ihr vielleicht schon kennt: