Mein heutiger Look ist sowohl bequem als auch stylisch. Ich habe mich für einen eher bunten Materialmix entschieden mit dem Fokus auf die grüne Lederhose. Eine Lederhose geht einfach immer und gibt jedem Look etwas Besonderes. Dazu habe ich den cropped Pullover in altrosa mit einem weißen Hemd darunter kombiniert – ich liebe Hemden unter locker geschnittenen Pullis, man kann die Kombi zu allem tragen und gerade im Herbst/Winter hält sie auch noch schön warm.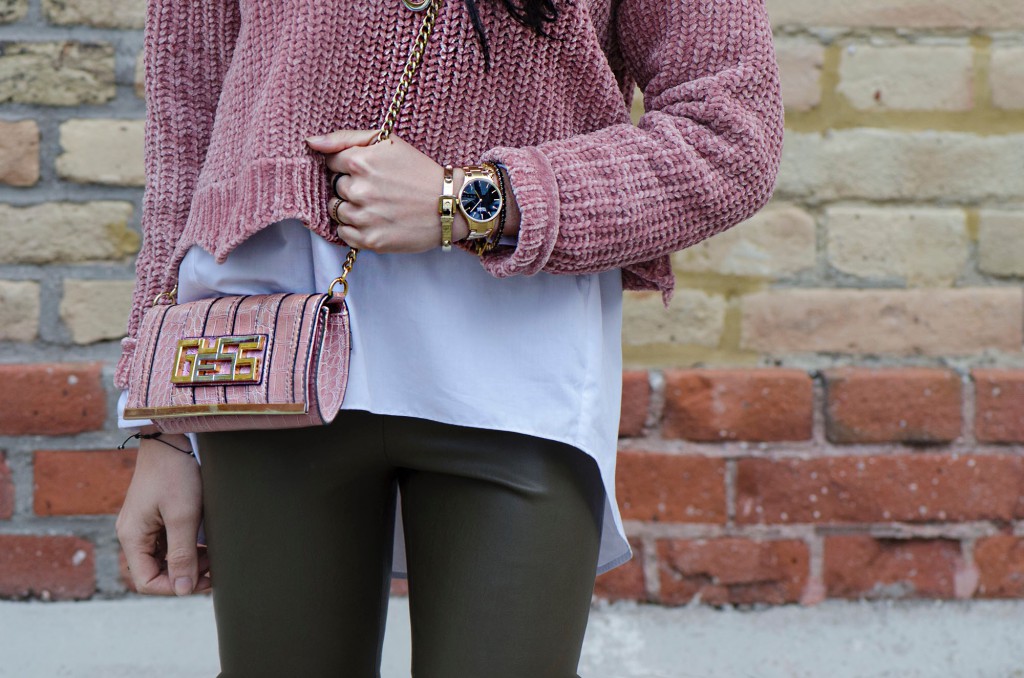 Die Guess-Clutch besitze ich schon eine halbe Ewigkeit und kann mich einfach nicht von ihr trennen. Sie dient eher als Schmuckstück in meinem Accessoire-Schrank, jedoch habe ich sie nun doch einmal herausgeholt, da ich in letzter Zeit doch wieder etwas öfter rosa trage. Ein weiteres auffälliges Detail ist mein selbstdesignter Filzhut mit den schwarz-glänzenden Nieten von die Zirbel auf den ich immernoch wahnsinnig stolz bin. Die Boots sind von Zara und derzeit meine absoluten Favoriten. Sie passen mit ihrer Eleganz und gleichzeitig sportlichem Chic zu fast jedem Look. Abgerundet wird das Outfit mit einigen goldenen Accessoires: Die Uhr von Nicole Vienna ist mein neuestes Schmuckstück, das Armband von Michael Kors war ein Geschenk von meinem Schatz und die Ringe + Ketten von byKranz stammen noch aus einer gemeinsamen Kooperation.
***
Todays look is comfortable and also stylish. I decided for a colored material mix with these green leather pants. Leather pants are always my go to for adding a bit of edge to any look. I love my cozy cropped oversize pullover which can be worn perfectly over a long blouse, just to add a little bit of layering. It's important to accessorize such a comfy look with some details like the little Guess-clutch with it's splash of gold, which is a really old model but I can hardly separate from it. Another detail is my self-designed felt hat with its eye-catching but noble rivets. It's these tiny features that make an outfit feel more special. The Zara-boots are my current favorites, especially because of their warm color and stylish comfort. They go with virtually any look as they express both elegance and the classic sporty chic.