As you know the COACHELLA-festival has already started and I was thinking about showing you my Coachella-related outfit resembling the "Bohemian Style" which is one of my favourite styles and is being worn at Coachella by a lot of stars and models – as Alessandra Ambrosio for example. On this pictures you see my red denim-shorts (Only) combined with a top in ethno style (Mango) + a cowboy hat as well as many different accessories:
Necklace: ZARA; Watch: Michael Kors; Bracelets: ZARA, H&M,Promod; Belt: H&M; Hat: ZARA; Espadrilles: ZARA; Sunglasses: H&M; Bag: ZARA
Oh yes, I would love to participate on that music festival one time – this year unfortunately it didn´t work but we´ll see which possibilities will bring the next year. 🙂   In case that one of you has been there, I would be happy about reading some interesting reports from your side and of course I´d be interested in the "boheme-outfit" you worn.
Nachdem gerade COACHELLA-Zeit ist, dachte ich mir, ich widme mich einmal dem lässigen "Boheme-Style", nachdem dieser auf dem Festival ja gerne von Stars und Models wie z.B. Alessandra Ambrosio getragen wird und übrigens im Sommer zu meinen Lieblings-Stilrichtungen gehört.  Auf diesen Bildern sehr ihr meine roten Jeans-Shorts (Only) zum Ethno-Top (Mango) + Cowboyhut sowie ganz viele verschiedene Accessoires:
Kette: ZARA; Uhr: Michael Kors; Armbänder: ZARA, H&M,Promod; Gürtel: H&M; Hut: ZARA; Espadrilles: ZARA; Sonnenbrille: H&M; Tasche: ZARA
Jaaa ich würde supergerne einmal auf dieses Musikfestival gehen, dieses Jahr hat es leider nicht geklappt, mal sehen was das nächste Jahr so bringen wird. 🙂 Falls jemand von euch dort war, ich würde mich sehr über Berichte freuen und natürlich würde mich auch total interessieren wie ihr euer "Hippie"-Outfit zusammengestellt habt.
Here I found some articles that fit perfectly the "Bohemian Style" in my favourite online shops:
Hier habe ich noch ein paar Artikel online zusammengesucht, die meiner Meinung nach PERFEKT zum Boheme-Style passen und direkt nachgekauft werden können: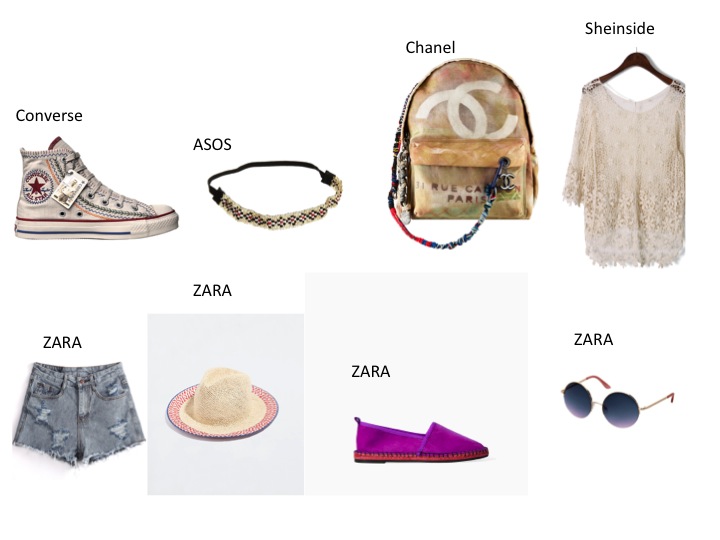 Fashion Blog: Caterina Catalano