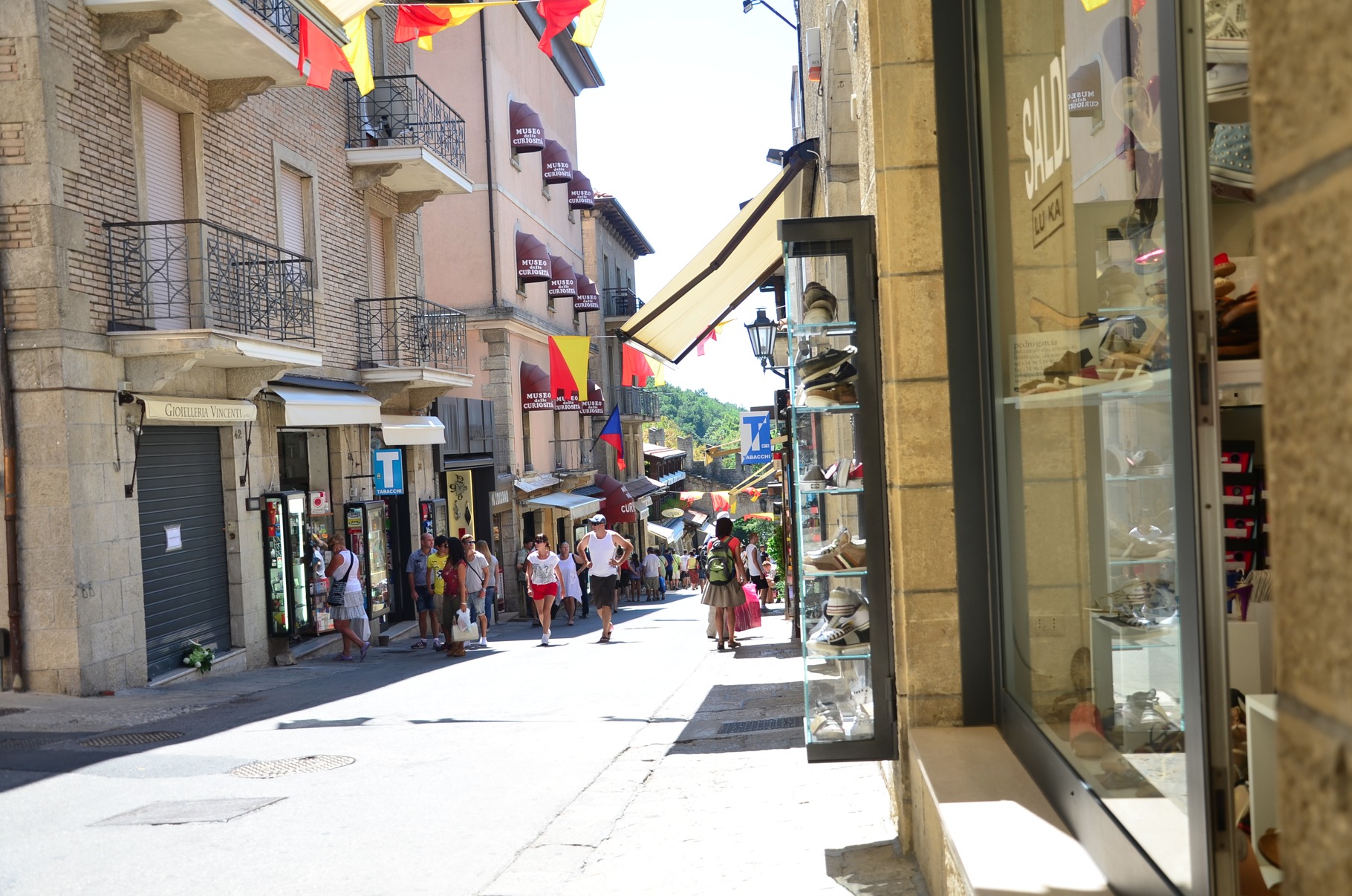 Meiner Meinung nach ein wundervoller Ort für Shoppen und um nebenher eine tolle Aussicht zu geniessen: San Marino zeigt viele Möglichkeiten auf, welche von "Shopping Addicts" nicht versäumt werden sollten. Zwei Outlets, zwei Shopping-Center, sowie hunderte von geschmackvollen und tollen Schaufenstern. Da man hier steuerfrei einkaufen kann (JAAAA…! 🙂 ), ist es oft günstiger in der Republik anstatt in Italien einzukaufen. Bei einigen dieser Schnäppchen handelt es sich um: Klamotten, Schuhe, Parfüms und Kosmetik. Ich denke, das sollte schon ein Grund sein um dort einmal zum Shoppen hinzufahren – oder nicht? 🙂
In my opinion a wonderful place for shopping and enjoying a beautyful view: San Marino presents opportunities which cannot be missed for all "shopping addicts". Two Outlets and two Shopping Centers as well as hundreds of tasteful shop-windows… Thanks to a lighter tax burden, in many cases it is, indeed, more convenient to shop in the Republic than in Italy. Some of the "better bargains" for those shopping in the Republic are: clothing, shoes, perfume and cosmetics… I think only this is already a reason to go there for checking out the shops – or what do you think? 🙂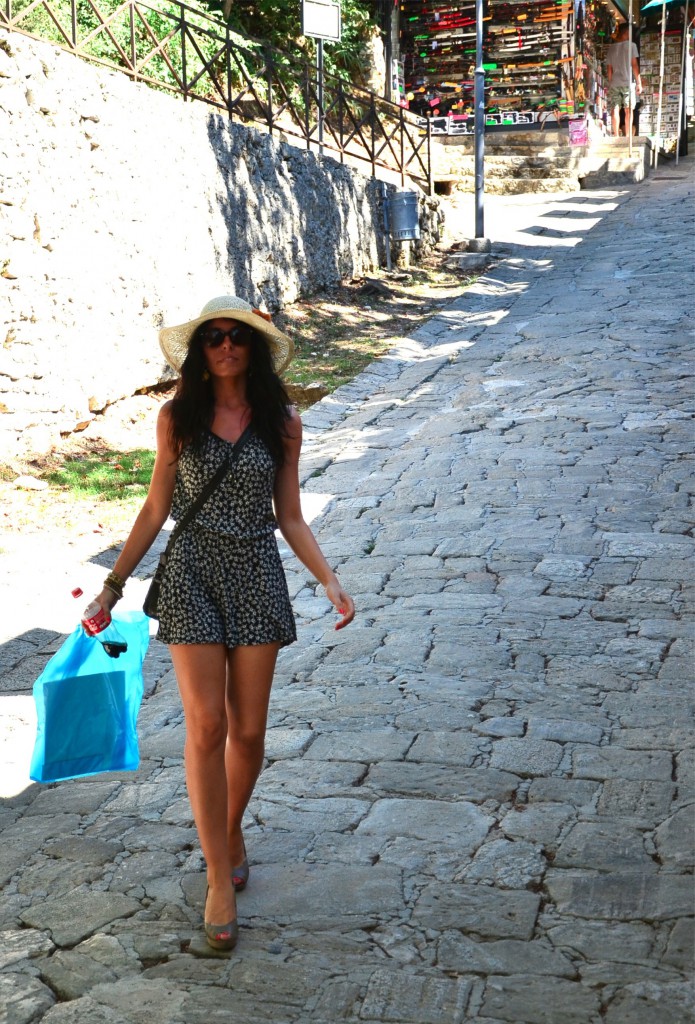 Jumpsuit: H&M (2012)
Shoes: H&M (2012)
Hat:  street stand in San Marino
Sunglasses: Ray Ban
(bitte nicht wundern, ich hatte damals ganz schwarze Haare, welche ich seit über einem Jahr heller trage (von kastanienbraun über rotbraun mit Ombrè bis hin zu mittelbraun mit helleren Akzenten usw. ) – schwarze Haare werde ich DEFINITIV nicht mehr tragen, ich finde die Farbe an mir einfach zu "hart" – das brauche ich trotz südländischem Blut nicht mehr. 🙂 Ich rate allgemein nicht ganz so dunklen Typen bei der Idee sich die Haare schwarz zu färben von einem tiefschwarz bzw. blauschwarz ab.
Ein schönes dunkelbraun reicht meistens vollkommen aus und lässt das Ganze nicht so – wie oben schon genannt – HART rüberkommen.
–
(pls don´t wonder, at that time my hair was black – now I use to have lighter hair (from maroon brown to the famous ombrè-look to medium brown with lighter accents and so on)   – I definitely won´t wear black coloured hair anymore, as I think it looks too "hard"
I generally propose more light skin types not to wear deep black or blue-black hair.
A nice darker brown sometimes is completely enough and looks more natural.
–
Was ich euch unbedingt noch zeigen muss, sind diese tollen weissen flat sandals, welche ich in einem der Shops dort ergattert hatte  (diese waren im SALE und es war das letzte Paar – habe sie zum Schnäppchenpreis von 50,00€ anstatt 200,00€ bekommen – HAPPYYY) und auch im nächsten Sommer wieder gerne tragen werde. Diese werden -total kreativ- durch ein Seidentuch, welches das Bein hochgewickelt wird an den Fuß gebunden und sehen damit sehr edel aus.
FAZIT: Hat sonst keiner – erregt Aufmerksamkeit – erntet viele Komplimente 😉
Ich hoffe, euch gefallen sie auch so gut wie mir:
What I absolutely wanted to show you are these white flats, which I bought in one of the shops there.
 (it was the last pair and also on SALE – so I got them for 50,00€ instead of 200,00€  – HAPPYYY) I´m sure I will wear them also next summer. Wrapped on your leg with that silk scarf they look really precious!
My CONCLUSION: Almost nobody has the same – attract attention – get a lot of compliments 😉
I hope you like them as I do.